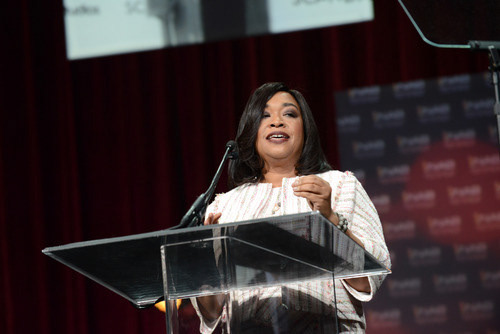 Super Sessions at NAB  -Shonda Rhimes, Jerry Lewis, Sharon Stone share the stage with Cybersecurity
NAB  PAYING TRIBUTE TO THE PAST WHILE EMBRACING THE FUTURE
It became evident at NAB 2015 that with all our newest Smart TVs, cell phones and tablets, we have only begun to explore what if possible in the world of broadcasting.  The super sessions laid out startlingly clear scenarios, how the 
Broadcast Spectrum
 will expand, who is trying to corner the market, how we will experience it and how hard it may be for companies to protect themselves and us from cyber intrusions.
Shonda Rhimes creator of Scandal
Hailed by the Hollywood Reporter as the savior of Television on a recent 
cover story
, the creator and executive producer of Grey's Anatomy, Scandal and How to Get Away With Murder, Shonda Rhimes was inducted into the National Association of Broadcasting Hall of Fame on Monday at The Television luncheon.  She made it clear, as she had repeatedly stressed in the past year, that she wants reporters to write about her vision, her unique characters not the fact that she is black and a woman or the fact her shows boast some of the most racially diverse casts. At this point in time that diversity should be natural not exceptional.  She is a writer who loves to write and, like many screenwriters, lives for the moment when the casts speak her words, especially when a character has something new or special to reveal.
The hottest topic in general discussions was that of Cybersecurity and how broadcast and film companies like Sony need to protect their assets. In his luncheon Keynote speaker John McAfee, gave a chilling example of how one fake phone call could elicit info from a worker that could take down an organization.